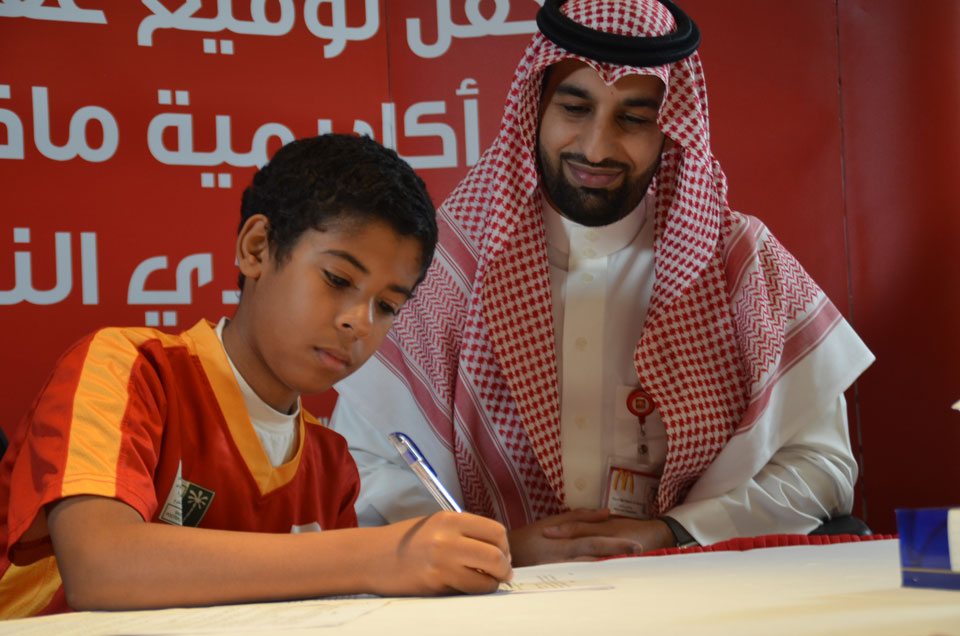 3 نجوم من مواهب ماكدونالدز الى نادي النصر
الرياض- 30 مارس 2017 م : أعلنت شركة الرياض العالمية للأغذية صاحبة حق الامتياز لسلسلة مطاعم ماكدونالدز السعودية في المناطق الوسطى والشرقية والشمالية عن توقيع 3 لاعبين من برنامج ماكدونالدز لمواهب كرة القدم في موسمه الثاني مع نادي النصر الرياضي.
جاء ذلك خلال حفل التوقيع الذي أقيم على هامش هذه المناسبة بحضور سمو الأمير ماجد بن فهد آل سعود، المدير العام لشؤون الموظفين بشركة الرياض العالمية للأغذية (ماكدونالدز)، والسيد مبارك الشراري – اداري الفئات السنية في نادي النصر والسيد فهد الرديعان – اداري البراعم في نادي النصر، إضافة إلى وسائل الإعلام المختلفة.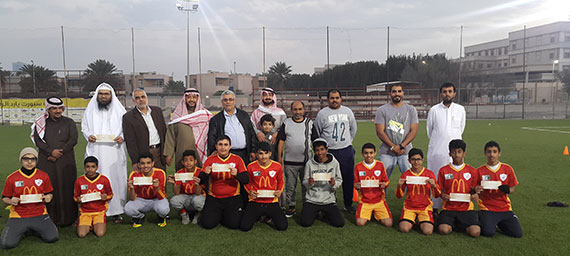 For the second consecutive season,
McDonald's Award the Top 3 winning Teams from Mawahib Football Talent Program with SR 200 K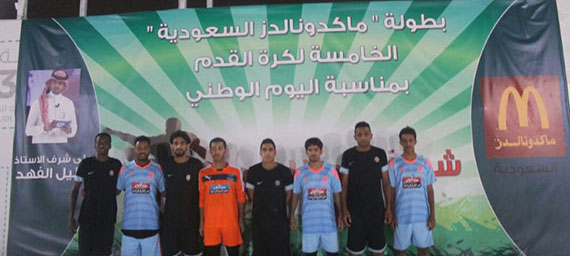 بطولة ماكدونالدز الخامسة لكرة القدم بمناسبة اليوم الوطني
قامت ماكدونالدز السعودية بتنظيم بطولة ماكدونالدز الخامسة لكرة القدم لحواري الرياض احتفالا باليوم الوطني السادس والثمانون، وشارك في البطولة 36 فريقا من مختلف أحياء مدينة الرياض.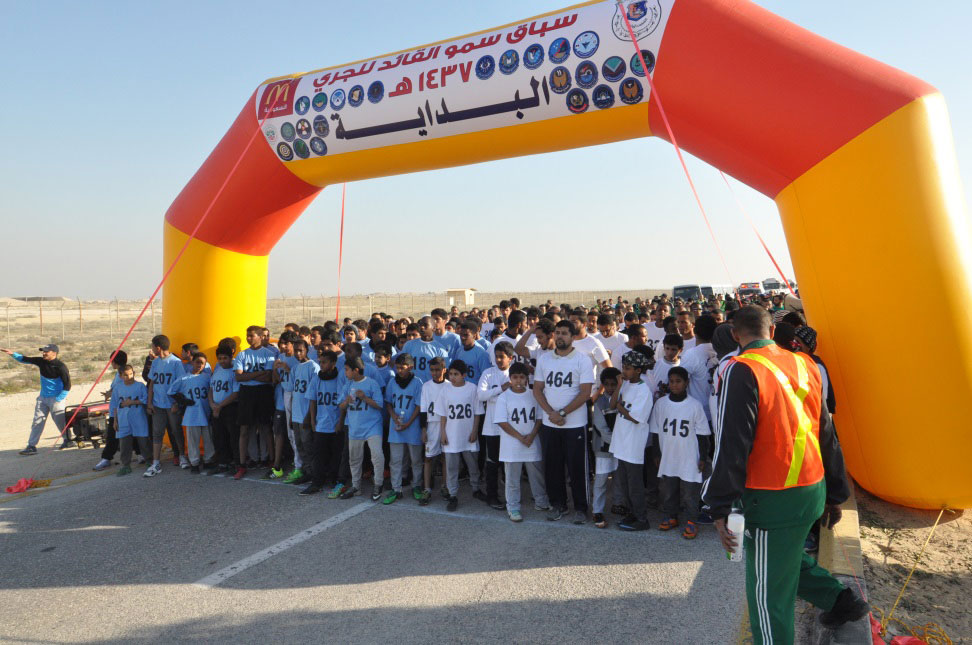 Support for the Border Security Troops at King Abdul-Aziz Air Base
Under the patronage of HRH Turky Bin Bandar bin Abdul-Aziz, McDonald's sponsored a Race event for the children of troops stationed at the Southern Border of the Kingdom. The race took place at King Abdul-Aziz Air Base in Dhahran and was also attended by the families of the employees from the Base.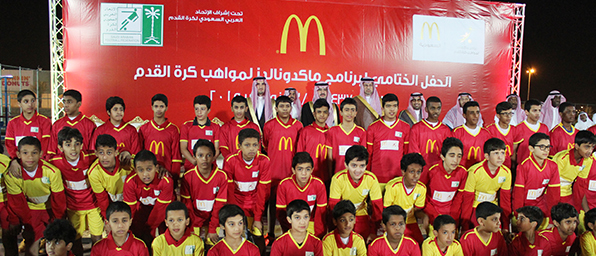 McDonald's 'Mawahib' Football Talent Program
Kicked off in 2015 in cooperation with the Saudi Arabian Football Federation, this focused on discovering talented children and juniors. The first stage was the McDonald's Children's Festival for U14 (under 14 years of age) and U16 (under 16 years of age) McDonald's Cup, which included a prize fund of SAR200,000 for the U16 category (SAR100,000 for the winner, SAR60,000 for the runners-up and SAR40,000 for the third-placed team). There were also prizes for every player in the McDonald's U14 category. The second stage was the selection of the most talented players who then enjoyed an intensive training program for three months, helping them to achieve their dreams. The scheme also gave them the opportunity to play matches with other Saudi teams, and perhaps eventually have the chance to join the ranks of major clubs and represent the national team.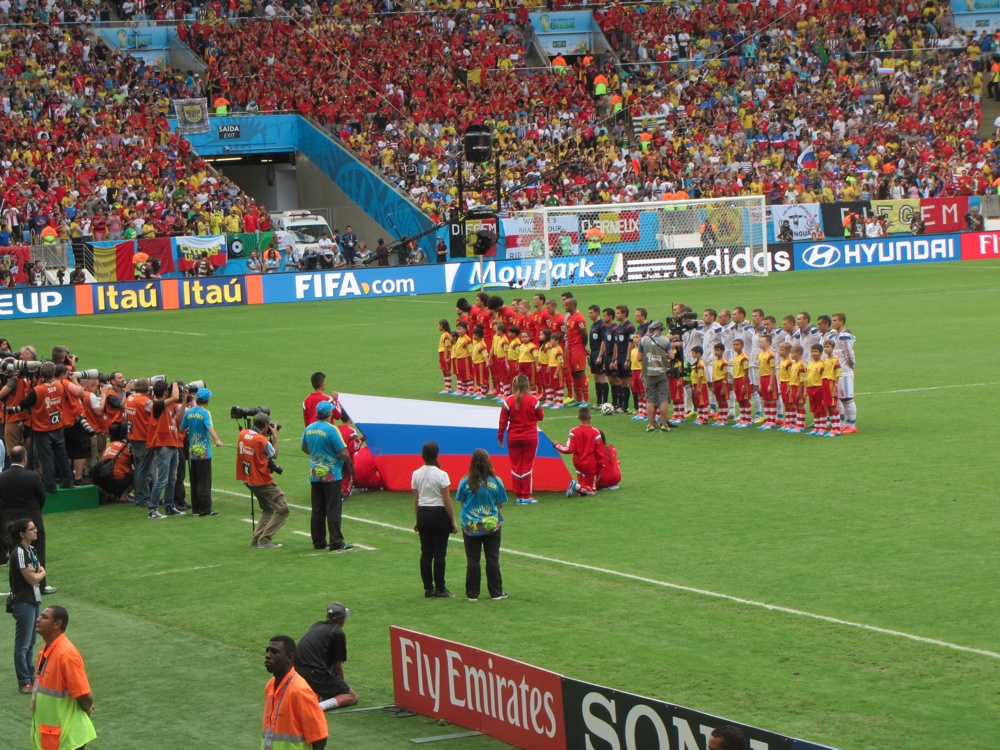 Players Escort Program
As a FIFA partner since 1994 and official restaurant of the World Cup, the McDonald's program gave the opportunity to more than 1,400 children from around the world to accompany players into the stadiums during the 2014 World Cup in Brazil. This included eight Saudi children and their parents who had the fantastic opportunity of visiting Brazil for the World Cup.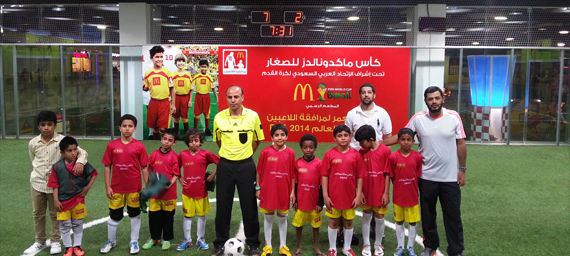 McDonald's Cup for Children
McDonald's organized a tournament championship for children aged 8 to 10 years in Riyadh and Dammam in March 2014 which included 32 teams competing in a series of games played on Fridays.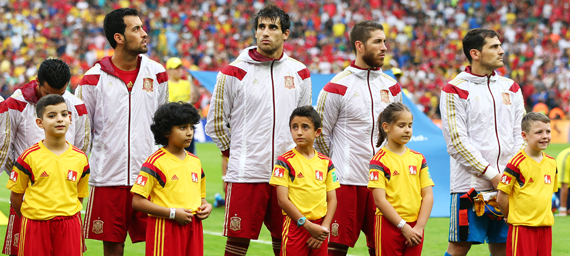 McDonald's Children's Program to Accompany Heroes
As a sponsor and official restaurant of the Beijing 2008 Olympic Games, McDonald's Saudi Arabia gave the opportunity to three children from Saudi Arabia to travel with one of their parents to experience the Olympic atmosphere and accompany Saudi Arabian Olympians in Beijing. The campaign included the publication of an information booklet about Olympic committees, the Saudi Arabian Olympic Committee and its achievements, and the achievements of Arabs in the Olympics past and present.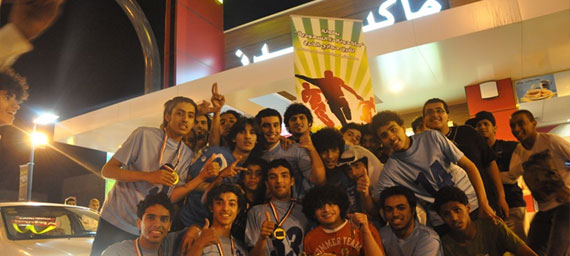 Grassroot Football Championships for the Neighborhoods
An annual championship in Riyadh and the Eastern Province to attract elite, local players which has proved a great opportunity to discover and develop talents to benefit the Saudi game. It is worth noting that many players participating in this tournament joined football clubs in the first, second and third tiers.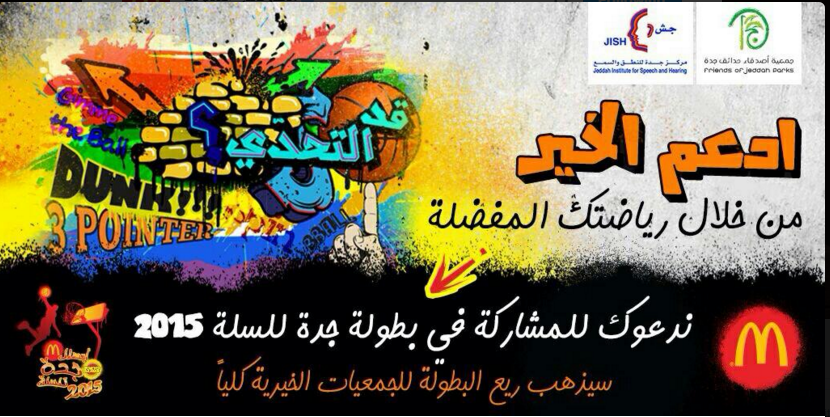 Jeddah Basketball Championship
Held over two days in the Sheraton hotel in Jeddah, the tournament was held in conjunction with Tokyo Games. McDonald's pledged SAR10 for each point scored during the tournament to the Society of Friends of Jeddah Gardens, contributing a SAR10,000 to the society. McDonald's and Tokyo Games then doubled this to SAR20,000, as announced during the closing ceremony of the championship.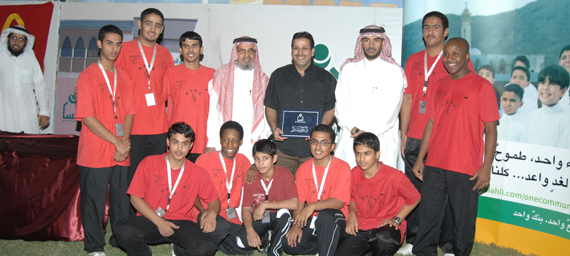 Insan championship
We organized a football championship for teams from the Insan Charitable Society for Orphans Care and invited the winning team and officials of the charity to a McDonald's restaurant.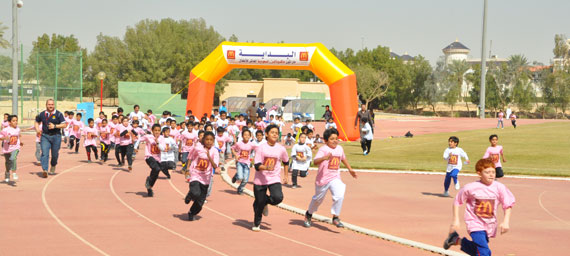 Marathons
McDonald's organized the McDonald's Kids Marathon, and has also organized and sponsored nine marathons in various regions of the Kingdom to date. McDonald's also sponsored the annual Olympic DayRun in the city of Sakaka, Al-Jawf region, and the Taif Marathon in Mecca. Both events were regulated by the Saudi Olympic Committee.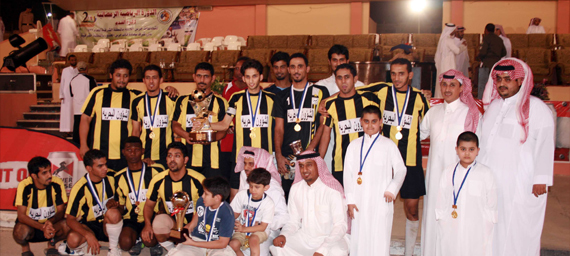 Eastern Region Football Championship
McDonald's Saudi Arabia organized the Football Championship Cup of the Commander of the Border Guard in the Eastern Region, with the finals in the Green Hall in Dammam.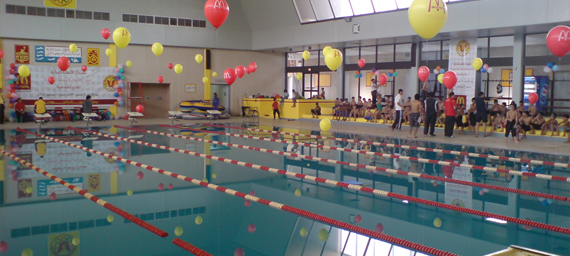 Swimming
In July 2008, McDonald's Saudi Arabia organized and sponsored a water sports festival at Qadisiyah Sports Club, as part of the club's calendar of summer events.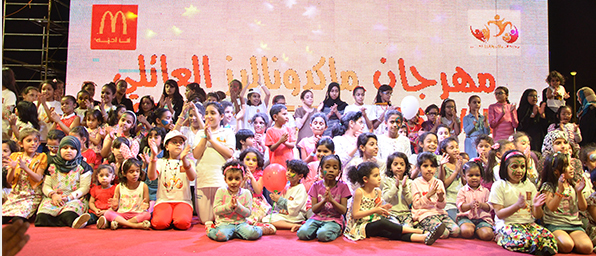 Family festival
Since 2013, McDonald's Saudi Arabia has organized an annual family festival in the Central and Eastern regions. In 2015, the Eastern Region festival attracted more than 20,000 people who enjoyed a fun atmosphere which included activities such as a children's race, football competitions, interactive theater, and free meals.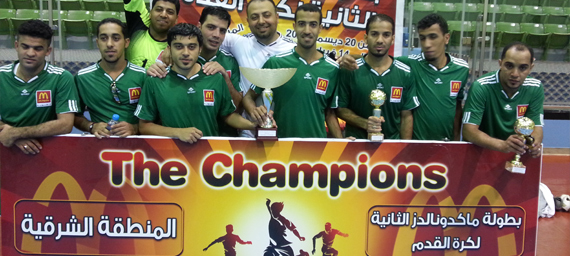 McDonald's staff football league
We organize a regular football tournament for RICC employees as part of our company sports festival. We have held two consecutive events.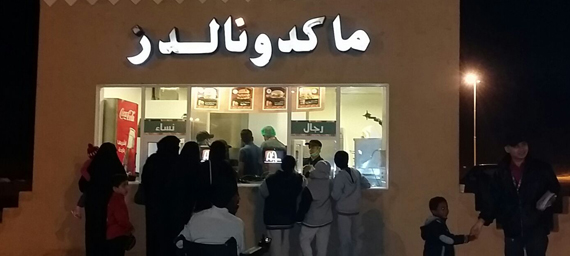 Supporting tourist festivals
McDonald's Saudi Arabia presented events at several festivals including Al-Janadriah festival, Al-Ghada Festival, in the city of Onaizah in Al-Qassim region, and the Buraidah Spring Festival . As part of its activities McDonald's offered gifts and special prices for visitors as well as building a mini-restaurant at the festival sites.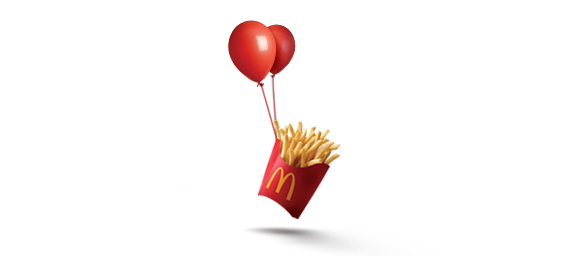 McDonald's Introduces a New Oil Blend and Mayonnaise
McDonald's introduces a new Oil Blend with 80% less saturated fat and a new Mayonnaise with 50% less calories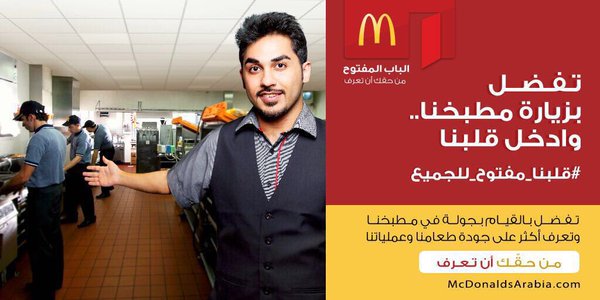 Open Door
As part of our commitment to boost customers' trust, and as a part of our transparency, we started adopting the "Open Door" policy which has been developed in August 2014. The customers are allowed into the restaurants to see the food preparation process and inquire about what goes on behind the scenes in terms of quality and safety procedures. The "Open Door" policy is a crucial part of McDonald's responsibility towards boosting awareness about the quality of its food ingredients utilized in the meal preparation process. It is a significant step aimed at responding to any doubts regarding what is going on in McDonald's kitchens.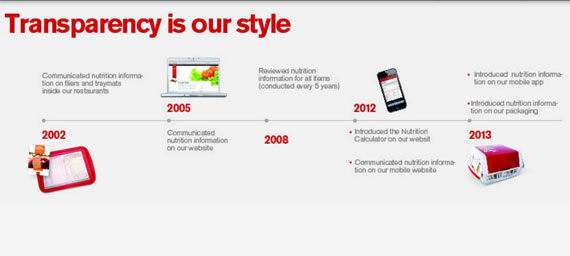 Transparency
Even though we are confident about the nutritional benefit of our menus, McDonald's Saudi Arabia's reviews all nutritional information in our meals every five years. Moreover, McDonald's provides nutritional information on its website, flyers, plate covers, smart phone applications, in addition to launching a nutritional value calculator on our website. We remain committed to maintaining the health of our customers – which is underpinned by the Ajyalona principles of maintaining a balanced diet. Our menu offers customers the freedom to choose the type of food that suits their needs, no matter their age.
Anyway, why not see for yourself? We'd like to invite you into our kitchens to show you exactly what we mean about a balanced diet and quality standards. Enjoy a virtual tour here:
http://www.mcdonaldsarabia.com/ksa-riyadh/ar/promotions/open-door.html
One of the principles of (Ajyalona) is a balanced diet. Our diverse menu gives customers the freedom to choose the types of food that suits their personal taste, whatever their age.
Our interactive nutrient table:
http://www.mcdonaldsarabia.com/ksa-riyadh/ar/our_food/nutrition/Nutrition_information.html
Saudi Arabia McDonald ensures the highest international food safety standards, particularly Islamic, including the use of 100% pure and halal meat, and a thorough inspection of all incoming food shipments to maintain the highest quality and taste.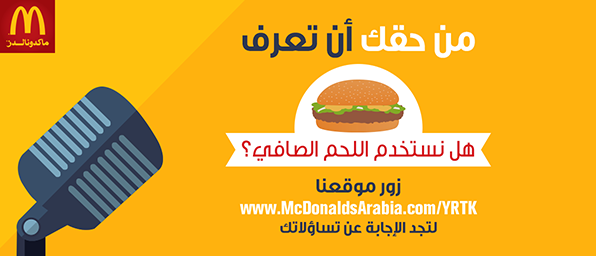 An innovative and unique digital platform within Ajyalona, highlighting McDonald's Arabia's commitment to answer customers' inquiries with accuracy, honesty and transparency, including questions about ingredients such as chicken, meat, fish, beverages and desserts, and halal regulations. McDonald's is the first QSR brand that publicizes food information of their meals, whether in restaurants, on product packaging, or on its website. For customer questions and answers, go to:
https://www.mcdonaldsarabia.com/ksa-riyadh/ar/your-right-to-know.html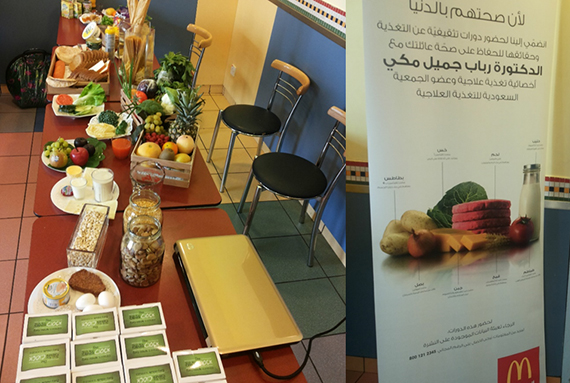 Moms @ McDonald's
Ajyalona launched new mothers' awareness sessions about childhood nutrition.
The sessions are offered in collaboration with nutritionists and with specialists and doctors once or twice a month throughout Riyadh and the Eastern region. Our aim is to boost awareness and provide important medical advice, with the sessions not designed to promote or discuss the brand.