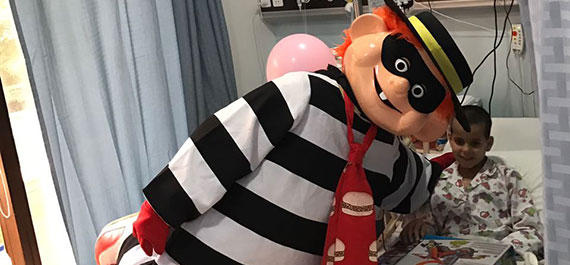 Visiting Children with Chronic Diseases
We visited the children with chronic diseases in the National Guard Hospital in collaboration with the Wish It program. Our team helped spread the cheer among the children by conducting fun activities.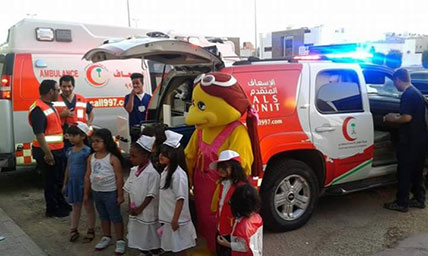 First Aid with Saudi Red Crescent
McDonald's Saud Arabia sponsors the international day for First Aid with Saudi Red Crescent , during the event McDonald's Entertainment team conducted a lot of fun activities for kids and their parents beside providing them with free Meals .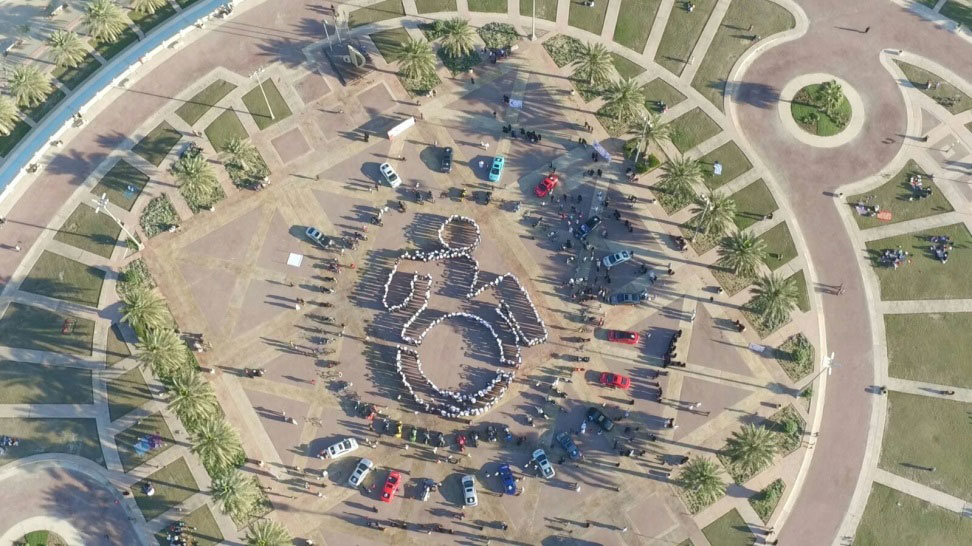 Taking Part in the Embodiment of the Largest Wheelchair in the World
McDonald's Saudi Arabia participated in the embodiment of the largest wheelchair in the world. With more than 300 participants, the event was a record breaker and authenticated in the Guinness World Book of Records.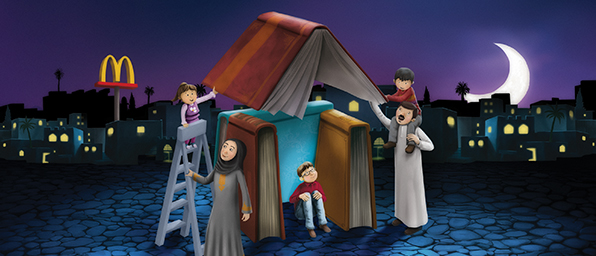 Buy a book...Help a Child
In the largest Ajyalona initiative to date, we sold educational and awareness-raising children's books in all our stores, with all proceeds going to charities throughout the Kingdom. The books are sold for the nominal price of SAR10 each, with stories that aim to educate children about the importance of good morals and values as well as supporting charities. These books attracted great interest from our customers, enabling us to donate a total of SAR1.22 million in 2014 alone, and SAR1.455 million in 2015 for 11 charities supported by Ajyalona. The success of this campaign was very much down to the generosity of our customers throughout our network, and to their sharing of our educational beliefs.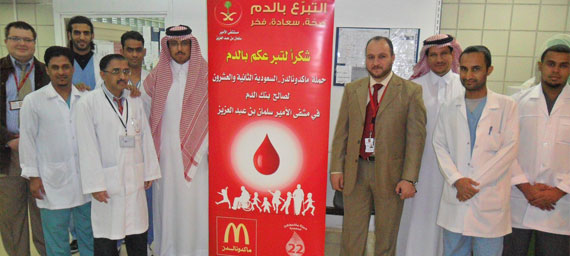 Blood donation campaigns
To support blood banks throughout the Kingdom, McDonald's Saudi Arabia frequently organizes blood donation campaigns, thanks to the support of both employees and notables such as HH Prince Mishaal Bin Khalid Al Saud, President of Riyadh International Catering Corporation (RICC), and VP, Business Support, HH Prince Waleed bin Nasser Al Saud. To date we have organized 32 blood donation campaigns in collaboration with government hospitals in Riyadh, Makkah and Eastern region.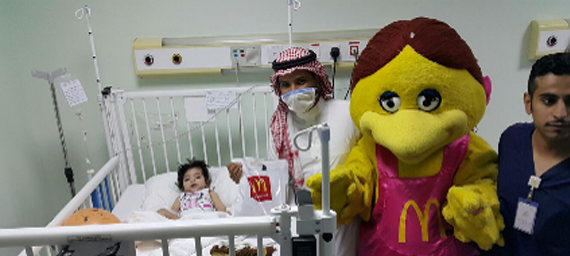 Hospital visits
The McDonald's Saudi Arabia team visits patients in hospitals, especially during holidays and national events, providing entertainment on global health awareness days and presenting gifts to inpatients.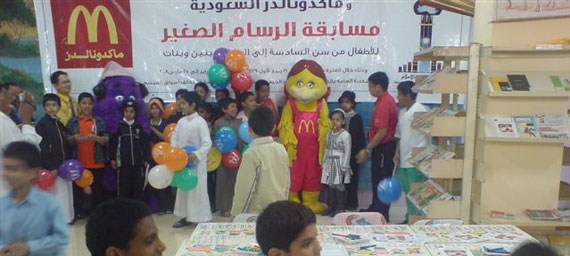 School visits
The McDonald's Saudi Arabia's team also visits schools, participating in entertainment for new students, and various sporting, cultural and educational events. Activities have included a drawing competition in Al-Ahsa for elementary school students as part of the activities of the Al-Ahsa Forum, as well as organizing a painting competition for primary school children in Al-Khobar.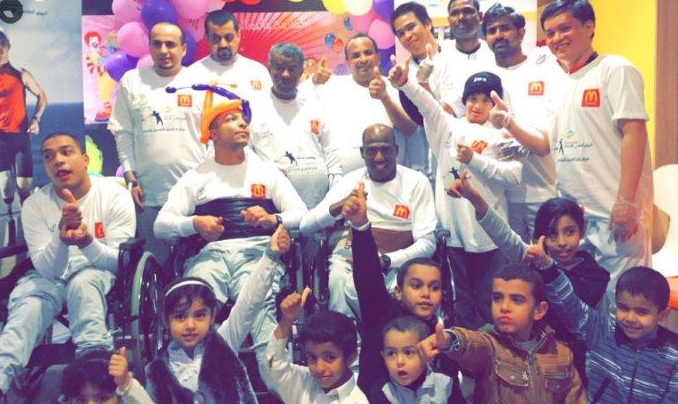 Visits to children at the Disabled Children's Association
As well as hosting people with disabilities and special needs in our restaurants and offering them a happy and congenial atmosphere, we also have a close relationship with Saut: The Voice of Down's Syndrome Society and Motor Disabilities Association (Harakia), both of whom we keep supporting in organizing activities.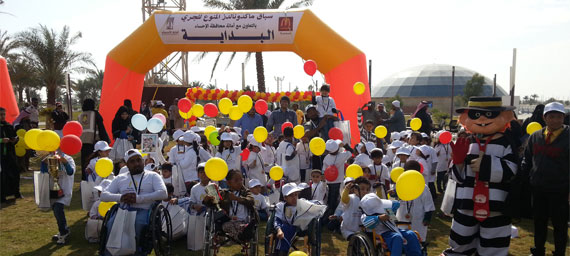 Marathon of children with disabilities
To celebrate Children's Day, in collaboration with the Disabled Children's Association we organized a marathon with 25 wheelchair-using children participating in the race. The winners were honored and the association was presented with a check for SAR500,000.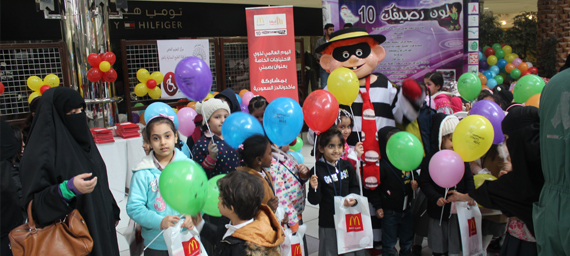 "Lawen Rasifak" Festival
In cooperation with Fatat Al Khaleej Charity for Women in Al Khobar, McDonald's Saudi Arabia regularly sponsors and participates in the International Day for Persons with Disabilities, through leisure and recreational activities involving McDonald's beloved characters, as well as mascot and face painting. Six-hundred children participated in the festival, while more than 700 took part in the fifth edition of the festival.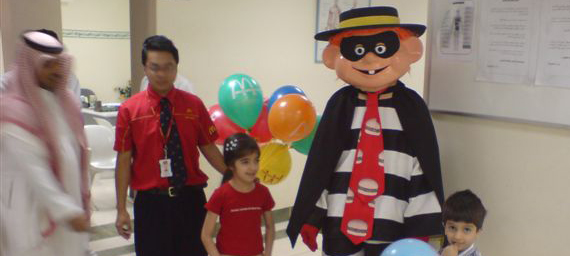 Vaccination campaigns
McDonald's Saudi Arabia constantly sponsors vaccination campaigns organized by the Ministry of Health that target private schools and neighborhoods. The aim is to reduce children's fears of vaccinations.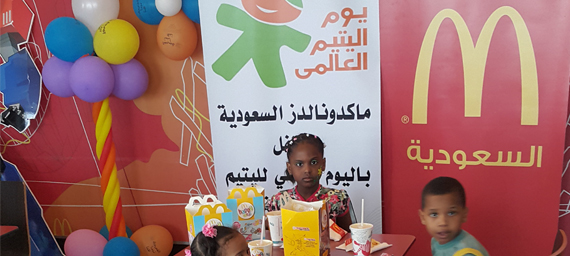 World Orphans Day
In collaboration with the Charitable Society for the Care of Orphans in the Eastern region (BINAA), McDonald's Saudi Arabia hosted a group of BINAA children on the Al Khobar Corniche, and invited them to one of its restaurants where they enjoyed meals, entertainment and gifts.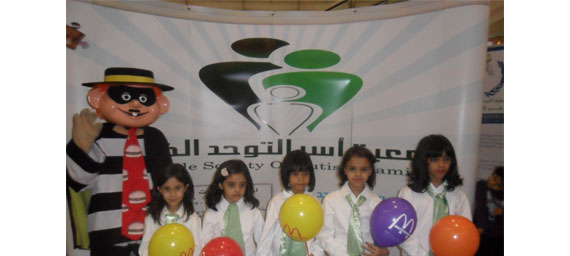 World Autism Awareness Day
In cooperation with the General Administration of Education in the Eastern region, McDonald's Saudi Arabia hosted a World Autism Awareness Day event in Al Khobar. We also celebrated this day in Riyadh together with the Charitable Society for Autism Families, with a two-day celebration in Granada Mall where McDonald's provided free meals to autistic children, their families and the charity's team.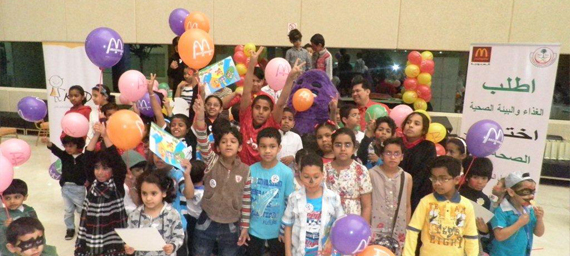 World Diabetes Day
McDonald's Saudi Arabia takes part in World Diabetes Day, organizing awareness campaigns for diabetes prevention and annual events in a number of public hospitals, including Dammam Central Hospital, the National Guard Hospital and King Salman bin Abdul Aziz Hospital in Riyadh.
National Day
We wholeheartedly celebrate occasions such as the National Day for our beloved Kingdom. We launched the annual 'I Love My Country' campaign with the Hokair Group in which children are given the opportunity to express their love for their homeland through drawings, poems and creative writing, with a special ceremony to honor those who produce the best artwork.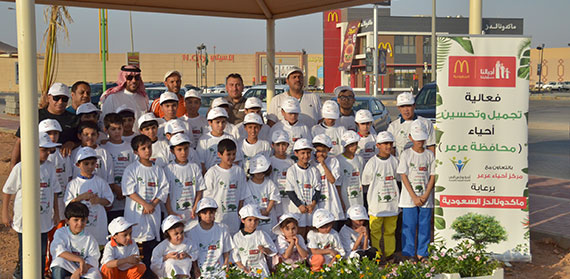 McDonald's Activities For Neighborhoods Beautification
In collaboration with McDonald's Saudi Arabia, the neighborhood centers in Arar and Al-AHSA planted 550 seedlings.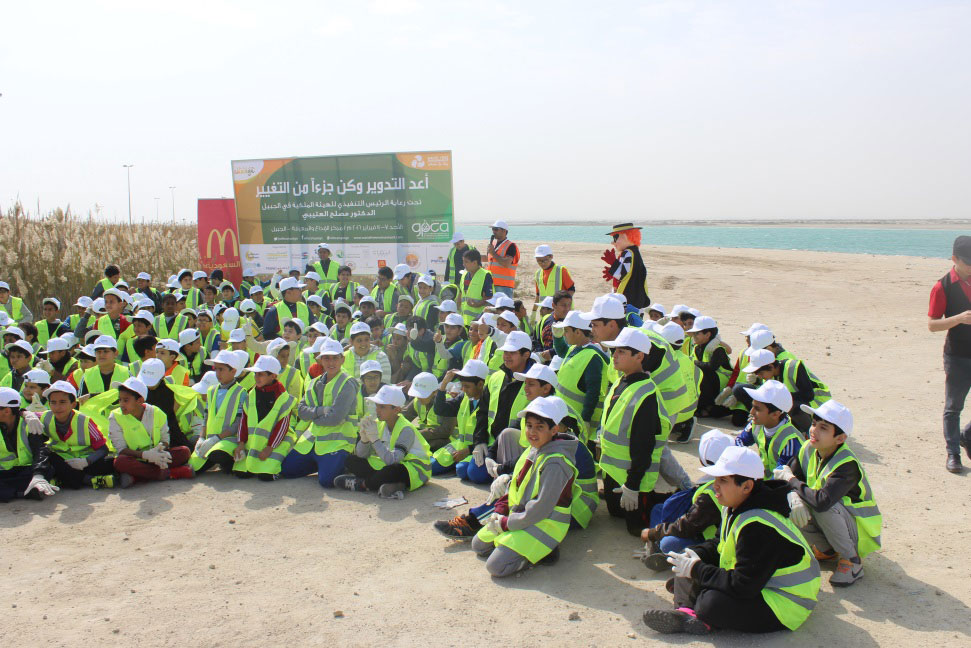 Cleaning the Beach in Jubail
McDonald's Saudi Arabia organised a beach-cleaning day in cooperation with municipalities from different regions in Jubail. McDonald's provided breakfast for participants as well as provided incentive gifts to attendees.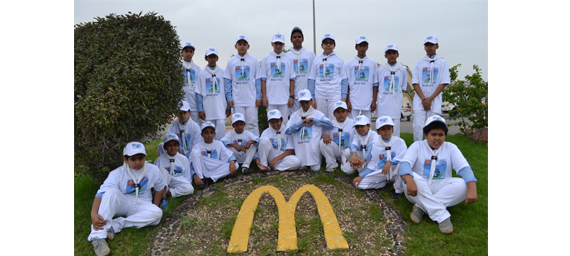 Environmental campaigns
In cooperation with the municipality of Al Khobar, we organized a six-month awareness campaign to clean up the beaches under the slogan 'Hand in Hand…We Protect Our Shores', to mark World Environment Day. Awareness brochures were distributed to encourage children to protect the environment, and many special activities organized. As a second stage in the campaign we distributed plastic bags in one of the main streets of Al Khobar under the slogan 'Hand in Hand…Cleaner Forever'. Bags were also distributed at the drive through sections of McDonald's branches in Dammam and Al Khobar. Leaflets containing details of a contest for the best sentence or slogan related to the environment were also distributed. Participants had to write a sentence about the environment and put their submissions in boxes at McDonald's restaurants in Dammam and Al Khobar.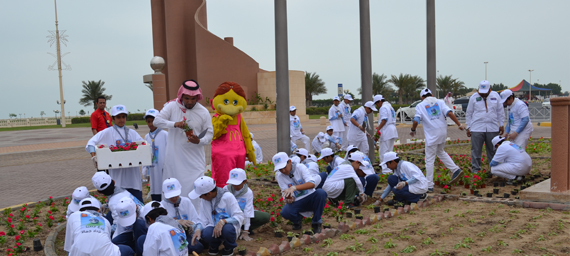 Tree Day
To mark Tree Day we took part in an extensive awareness campaign in cooperation with the Ministry of Agriculture and other agencies.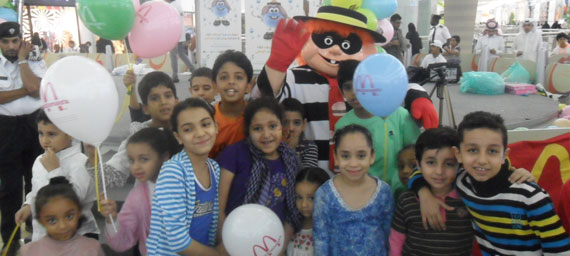 Water conservation campaign
We also participated in the national campaign for water conservation organized by the Ministry of Water and Electricity. The aim was to encourage the public to consider saving water as a religious, moral and national responsibility.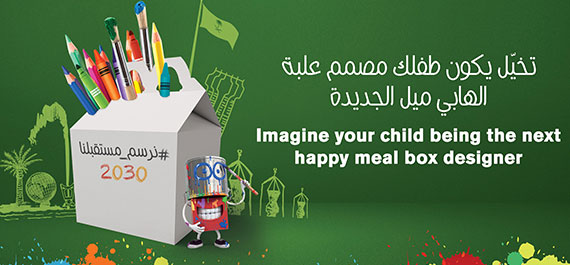 The Happy Meal Box Artist Campaign
In pursuit to support art in the Saudi community and the 2030 Vision by nurturing young talents, McDonald's KSA launched its newest campaign, the Happy Meal Box Artist, in the western and southern regions. The purpose of this campaign is to inspire and motivate the young artistic children and nurture their talents. Children between the ages of three to ten years old had the opportunity to use McDonald's white happy meal box as a tool to be creative and express those hidden artistic talents. Three young artists were chosen as the next Happy Meal box designers where they were gifted a premium art set and exposure by printing their artworks on the Happy Meal boxes and distributed in all McDonald's restaurants.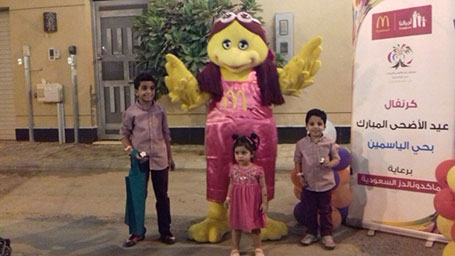 ماكدونالدز تشارك فرحة العيد مع سكان حي الياسمين بالرياض
من منطلق مسؤوليتنا الاجتماعية لدعم أحياء منطقة الرياض قامت ماكدونالدز بمشاركة فرحة العيد مع عائلات وأبناء حي الياسمين وتقديم فعاليات ووجبات مجانية للأطفال.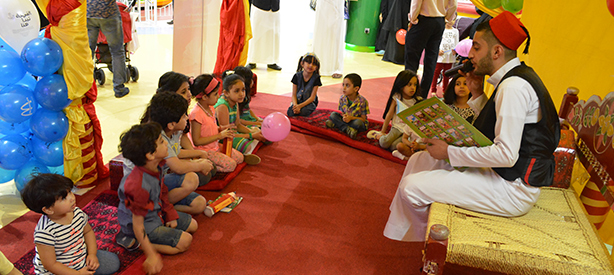 Storyteller 'Hakawaty' program
We staged a children's program during the holy month of Ramadan in 2012-15 at the Hokair Amusement Center, Oceanica Center and a number of malls throughout the Kingdom where a storyteller shared morally uplifting tales and stories.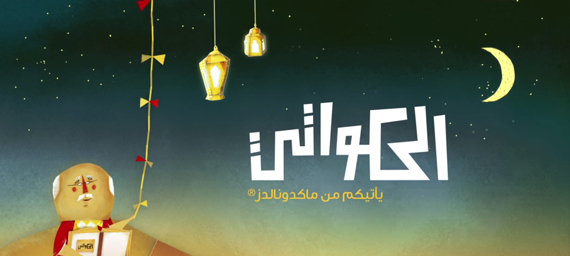 Ramadan Storyteller on MBC1
A children's TV program in which a storyteller narrated 15 short stories over 30 episodes on MBC1 during 2013 and 2014.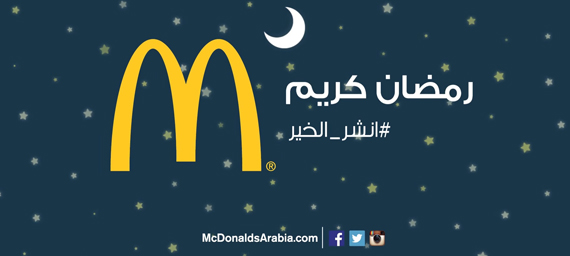 #Spread_kindness
McDonald's produced a 30-episode cartoon broadcasted on MBC1 during the holy month of Ramadan in 2015 that discussed the importance of good deeds and ethics and aimed to spread the message that each individual contribution, no matter how simple and whether it was material or moral, would have a positive impact on people and society in general.
Family Time Forever
Our two-stage campaign began with McDonald's Saudi Arabia 'Offline Day', an annual initiative in which people were encouraged to switch off their mobile phones, computers and televisions and spend time with their families. McDonald's Arabia planned a full schedule of initiatives in all its branches including providing ice cream and fun games for children, courtesy of the McDonald's entertainment team. This was followed by the McDonald's family race on 'Day Offline' at the Hokair Entertainment City, where whole families were encouraged to join in.